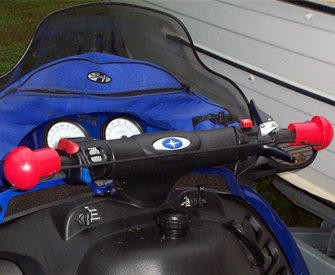 Another Great Solution by SureTrac Systems!
The Cover Saver is an original accessory to the R.V. marketplace. This product will fit any vehicle's handlebars, no matter what season or type of vehicle. For example: not only snowmobiles, but also personal watercraft, motorcycles, ATV's, and mopeds, etc.
Our COVER SAVER consists of two pieces of high-density polyethylene plastic, that fits over existing handgrips before installing the cover. They allow the cover to slip on and off much easier and increase the life of the cover, especially while trailering. Cover Saver is specifically designed to help save your cover.
Cover Saver is Available in Two Colors: Red & Black.
Note: Cover Saver's Patent # : #D447,444S